So, your child has recently been diagnosed with autism – how are you feeling?
You may struggle to put it into words, and we understand that - even if you suspected what a diagnosis would be, having it confirmed can set off a chain reaction of assorted, and even conflicting emotions.
"I feel so worried"
"It's just not fair"
"What happens now?"
"Nobody understands"
"It's all my fault"
Does that sound familiar at all? Though some parents may feel relief at finally getting a diagnosis, it often comes hand-in-hand with feelings of fear, overwhelm, and shock.
Whatever you're feeling right now, the most important thing to remember is that it's perfectly natural. There is no right or wrong way to react or feel when it comes to your child's diagnosis, and be assured that you're not alone.
We hear from many parents about their worries following their child's initial diagnosis…
What will their future hold?
Will they be able to live a normal life? Have a job? A relationship? A family of their own?
"Will my child be happy?"
Look at it this way - does any parent really ever know how their child's future will turn out, whether or not they have autism?
As parents, we can never know exactly how our children's lives will turn out, but what is certain is that you are taking steps right now to do everything you can to support your child's own uniquely wonderful needs.
Time and time again, parents come to us stressed and anxious because their child has been diagnosed with autism and they haven't a clue where to turn to for help. From their concerns, and from our own experience, we wanted to create a family focused, in-depth, practical online support plan for families living with autism; something that fills the huge gaps in autism support and understanding that you are likely experiencing right now.
Our transformational family-focused support plan: Autism: Everything We Wish We'd Known is packed full of everything we wish we'd know when our children were diagnosed. We've collaborated with an inspiring collection of autistic influencers, professionals, parents and people to empower and inspire you to confidently take those next steps on your autism journey.
We know how it feels to be given a diagnosis, a label, and no practical help. It doesn't have to be that way for your family.
When you sign up to Autism: Everything We Wish We'd Known you'll have a lifeline to invaluable support in the form of in-depth videos, your personal digital resource guide and other support resources, all available to you straight away in the comfort of your own home. That means no referrals, no form filling, no waiting lists and no time off work.
We understand how much pressure you're probably under right now, and how precious your time is. That's why we've designed the plan to fit in around your life, your child, and your family. You can access our support at any time and anywhere, and you can dip in and out of the resources in a way that best suits your family's unique schedule.
Are you ready to find out more about your child's diagnosis and what it really means, and start planning for the future?
What you'll get from 'Autism: Everything We Wish We'd Known':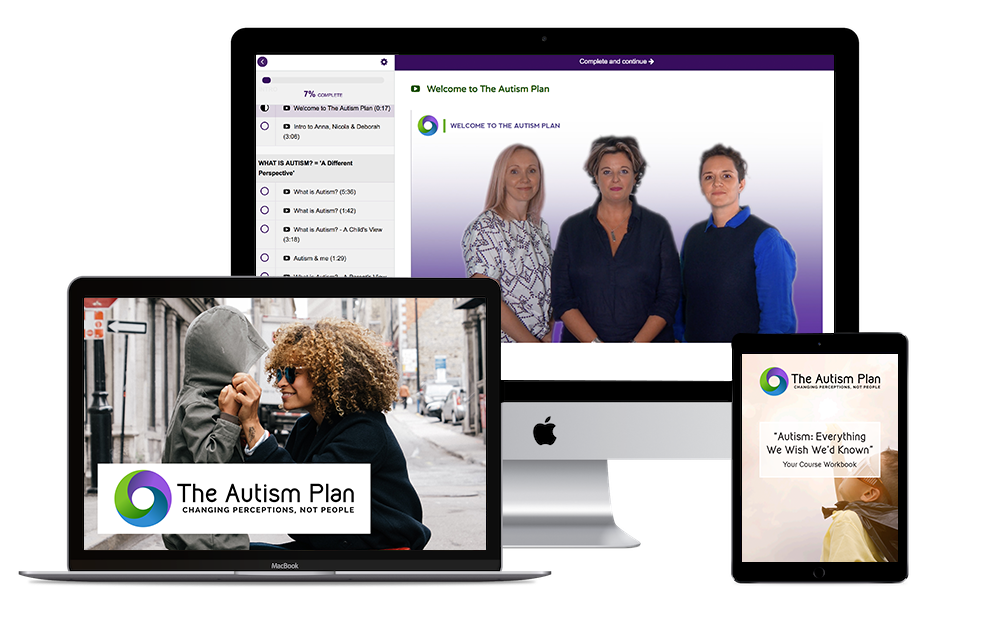 Part One
By the end of part 1→ you will have a good understanding of autism and a positive perception of its uniqueness.
Part Two
By the end of part 2 → you will have a deeper insight into the positive aspects of autism.
Part Three
By the end of part 3 → you will understand the detrimental consequences of masking autism.
Part Four
By the end of part 4: You will be better informed about the benefits having a diagnosis brings.
Part Five
By the end of part 5 → you will appreciate the importance of taking care of yourself first.
Part Six
By the end of part 6 → you will have a better idea of who you might want to tell about your child's diagnosis, and what to say.
Part Seven
By the end of part 7 → you will feel more confident about working with your child's school with an aim of making sure that your child's needs are met.
Part Eight
By the end of part 8 → you will better understand your child's behaviour.
Part Nine
By the end of part 9 → you will know more about the types of support you can access.
You'll quickly see that our focus is on each child's strengths and what motivates them, instead of seeing their diagnosis as a weakness. This belief is at the core of all we do at The Autism Plan, and Autism: Everything We Wish We'd Known demonstrates it perfectly.
GET STARTED NOW!
Are you ready to get started? We'll help you build your confidence on living with autism and you'll benefit right away from all of the advice, support, knowledge and expertise that we have packed into Autism: Everything We Wish We'd Known.
Autism: Everything We Wish We'd Known is ready and waiting for you! We developed it specifically to give you and your family the help and support you deserve.
Just sign up today for £249, and continue your autism journey with The Autism Plan by your side. Think of us as your very own team, made up of autism parents, consultants, professionals, inspirational autistic people and so much more.
Sign Up Now!

We're so pleased you found us. We are here to help you.
Anna, Nicola, Deborah and The Autism Plan Team
P.S. Our mission is to change the global perception of autism. Remember, we are parents of autistic children and we know what you are going through. We have packed in everything we wish we had known when our children were diagnosed.
P.P.S. We believe our positive vision of autism will genuinely transform families and their lives. Autism: Everything We Wish We'd Known blends technology and autism experience and expertise, so why not give us a try in the convenience of your own home?