Are You Struggling to Find the Right Support Following Your Child's Autism Diagnosis?
The Autism Plan is Here to Help…
We know you are busy, tired and most likely feeling overwhelmed right now. But what if you could feel differently in just 30 minutes?
Discover 'Autism: Quick Start', designed to give you the help and practical support you need - and all you need is just 30 minutes!
So, what's included?
A selection of videos taking you through the top things that parents told us they wish they'd known when their child was first diagnosed.
Specialist autism advice and support presented by us and our team of autistic people, parents and specialists.
We help your family process the diagnosis, and show you simple steps you can take to improve your child's experiences and your family life.
Here is the list of videos included: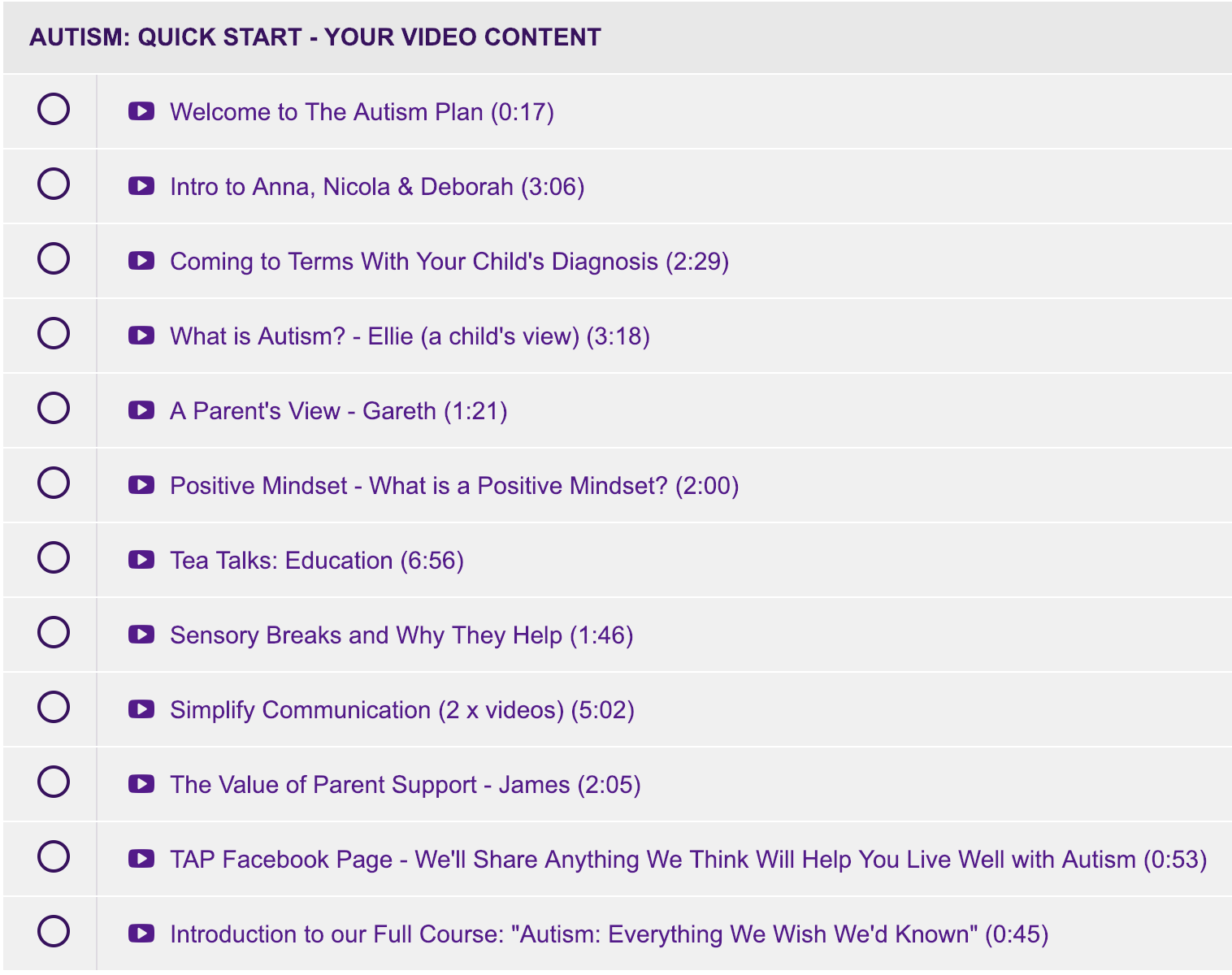 What else is included?
An interactive digital resource guide for you to make notes, take action, and record video content if you feel it will benefit you.
Downloadable visual resources that you can print off.
To get started today with 'Autism: Quick Start', all you need is:
30 minutes (or just 5 minutes a day to work through it all in a week!)
A computer, laptop, smartphone or tablet
Access to the internet
The desire to want to help your family live well with autism
£9
When your child is first diagnosed, the following feelings and emotions are very common…
Shock at finding out your child has a lifelong condition.
Fear for the future, for your child and the challenges they might face, and also for the rest of your family and how you'll cope.
Frustration and despair that no onward help is forthcoming.
Overwhelm about where you can turn to for help and what support is available to you and your child.
We know you are busy, tired and likely overwhelmed right now. How do we know? Because we are parents and carers of autistic children.
We started The Autism Plan to help other families because when our children were diagnosed with autism we realised very quickly that there was no easily accessible autism support that fitted in with our overwhelmingly hectic lives.
The more we heard about how other families living with autism were also struggling every day, the more we realised we needed to use our own experiences to do something to help them.
Remember:
'Autism: Quick Start' has been designed with YOU in mind
We are autism parents, so you can be confident that we are giving you the best advice from years of experience of living with autism in our families.
We designed 'Autism Quick Start' to save you time and energy from trawling through the internet just to find out 'what next'.
'Autism: Quick Start' will take you just 30 minutes to complete! That's just 5 minutes a day to complete it in under a week.
'Autism: Quick Start' is designed to offer support to families in your situation who want to know what to do next and who want to take action immediately.
You no longer have to feel overwhelmed and confused at what to do next, because 'Autism: Quick Start' gives you a great start to understanding your child's unique needs and potential today!
Are you ready to commit 30 minutes of your time to help your family? Sign up now and start your autism journey with us today...
Sign Up for Our Intro' Support Plan Now!
We're here to help you live confidently and happily with autism.
Best wishes,
Anna, Nicola, Deborah and The Autism Plan Team